Woman and Epilepsy
Mothers with Epilepsy
RX's I took
Getting through school with seizures
SURGERY for epilepsy - Side effect from RX's and surgery(depression)
MY BOOK's
Support Groups for Epilepsy
Being positive and staying that way!
Sex & Seizures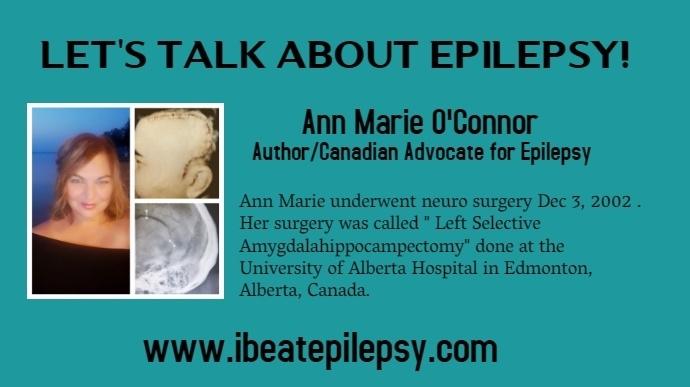 TESTIMONIALS
Claire Lownie, Psychiatrist, Johannesburg S.A
I had the privilege of hearing Ann Marie speak at the World Conference on Epilepsy and Brain Disorders in November 2018. her story of recovery from intractable Epilepsy was truly inspirational. Her outgoing personality, empathy and her ability to interact with people from many diverse backgrounds were exceptional. I would value the opportunity to present at other conferences with her in the future and would highly recommend her as a speaker.
Calgary Epilepsy Association
Ann, "Thank you so much for coming and sharing your journey through life! You are most definitely and inspirational woman!"
Chuck Carmen, Executive Director at Epilepsy Association of Central Florida, Inc.
As both a long time corporate speaker and an executive of a non-profit epilepsy organization it is my privilege to write this recommendation and to know Ann Marie. Her energy and enthusiasm is contagious! Along with this her life experiences and talent make her a top candidate for your speaking engagement. I would be happy to communicate with you at any time regarding my sincere recommendation of her. I know your audience will work away energized and inspired.

Wim Van Hoogdalem, Medical Devices Specialist, Consultant, Auditor, Trainer, Interim Manager, Coach
Ann Marie is a passionate ambassador, author and public speaker. Her books are a real inspiration to everybody dealing with epilepsy. She motivates people to not give up but look at the bright side of life.
I fully support her aim to get more global attention for epilepsy: 'Let's talk about Epilepsy'
Gary Collins, Epilepsy Canada
Ann speaks from the heart! Her personal experience has given her an awareness that is often unmatched and has helped her navigate a very complex journey. When working with Ann, we discovered a passionate and sincere woman who wanted nothing more than to be helpful and giving.
Stuart Houston, Mayor at City of Spruce Grove
I have had the pleasure of knowing Ann Gillie for about five years and was intrigued by Ann's story of trial and triumph relating to advancements in research for Epilepsy. Her trial reflected the challenges associated with day to day living and coping with unexpected and frequent seizures from Epilepsy, and as a young lady it was very tough.
The triumph was new advancements in research saw Ann chosen to have the opportunity to have neuro surgery that would give her new hope. The surgery was successful and after nine years of being seizure free Ann's life has taken on a whole new meaning.

She did not forget the challenges of the past and is giving back in a positive way by bringing awareness to those afflicted with Epilepsy. She has written books, attended speaking engagements and advocates at the National level raising awareness to fund important new research.

Ann is a vibrant young woman with bright future as she raises her young family in a loving and caring environment. She has triumphed in her life and continues to speak on behalf of those that live with the effects of Epilepsy. Her dream is real and her passion for hope is authentic because she knows better than anyone that life can change!